---
Saturday, January 29th
We promised it to you and here it is : Check that screenshot ! Monsters in Gunman ! The rustbot is a very nasty creature, so be carefull !

-Wipeoot
Friday, January 28th
Now would ya look at that number ! 20.000 hits !!

Bonewolf had the big honor to lead us into the next 20.000 ! Lets celebrate this wonderfull day ! Shubaadoo whabaadaa !
-Wipeoot
Friday, January 22th
It took a long time , but we have a LOT of new screenshots for ya ! All levels running in Half-Life ! Really ! Expect to see our first model running in HL soon. Go to the screenshots section NOW !
-Wipeoot
Thursday, January 14th
Here it is! The Quake2 to Half-Life model conversion tutorial by Pug that I promised! Hopefully, this will get circulated to a few other sites too. Click right HERE to get it!
-MrBlack
Friday, January 8th
An Amazing burst in modeling progress! Pug has discovered how to driectly import Quake2 models to Half-Life! In the course of one night, he got all of our Gunman models converted over! Now what's left is to set up the bone structure of each model and then animate them, a process which Pug say may take around a month. For those of you curious about the process that Pug used, he is currently writing up a small tutorial on the process which we will distribute to all the Half-Life modeling sites. Keep tuned to find out where you can get it.
-MrBlack
Tuesday, December 29th
Well, here is it! our newest addition to our fleet of xenomes! the Emporer Xenome! This is the fist completed project between Bonewolf and our new modeler Pug. Here's some wonderful screen shots of the Emporer.
-MrBlack
Tuesday, December 15th
I visited Valve to talk about the commercial value of Gunman! It's a pretty messy place, what with all their remodelling, but they're still keeping busy. While they were hard at work on Team Fortress 2, I was able to talk with Harry Teasley and Gabe Newell about Gunman and its potential. After showing off our maps and models, and explaining our Gunman vision, we are now hard at work on a publishers' demo! We can't promise that this entire demo will be available to the public, but be certain we will work on something for all of you!
-Zak
Thursday, November 19th
Updated the Planets section ... check out Ferrin for a hint of what to expect for our first (and possible demo) episode!
-Zak
Saturday, November 14th
I'd like to direct you to http://betterhalf.questgate.net/ where Farenheit was kind enough to put up a full review including interviews and some files. Be shure to check it out!
-MrBlack
Friday, November 13th
Here is it! The next Gunman movie is finnaly out! Here's a link to it, enjoy!
The concept drawing for the Xenome in the Nov 9th post was given to Pug as a "test" to see if he was any good. All our doubts were put aside. He got it whipped up in one night. Here's an unskinned pict of the model.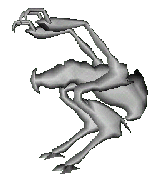 -MrBlack
Tuesday, November 9th
I'd like to welcome Pug to the team. He'll be helping BoneWolf out in the modeling. All I can say is that he's pretty DAMN good. Hopefully, you'll be able to see some great new models under the joint effort of BoneWolf and Pug.
-MrBlack
Tuesday, November 9th
Hello again people. Here's some concept art for some models that BoneWolf is gonna whip up. Knowing him, they'll probably be done before I can post this. ;)
-MrBlack
Tuesday, November 9th
Good God I'm tired.... Well.. I'd just like to say that. uh.. We've got a new programmer, Fahrenheit, to help us as we push on into the un-explored realm of Half-Life coding. Umm.. so.. say "Hi" and be nice to him ;) ho boy.... must sleeeep....
-MrBlack
Thursday, October 22nd
We've now finished converting our original 24 bit versions of the textures to the Half-Life wad format. Each texture is allowed to have its OWN 256 color palette. The old Gunman palette was pretty damn good, but I think you'll see an improvement with the new HL texture system. Especially in software mode. In Quake2, Gunman was pretty bland, though realistic looking. Now its just realistic. Heh.
-MrBlack
Wednesday, October 14th
Yet ANOTHER model done bye Bonewolf. Why won't he stop! ARGH! Check it out under the creatures section here.
-MrBlack
Wednesday, October 14th
The Gunman team is very pleased to announce a major change in the project. After careful consideration, we've decided to switch to Valve's Half Life engine. Actually, we had little choice. The very MENTION of the word "Quake" causes publishers to run for the hills (Gunman is MUCH too large to download). Other considerations include Half-Life's GREATLY improved, more flexable, mod-friendly engine. And lets not forget the fantastic AI functions... or the improvements in sound and software-mode graphics. Frankly, we've have a hard time thinking of something more that we WANTED from an engine. After I had a chat with Harry Teasley at Valve, we were convinced that this was a smart move. Valve, by-the-way, is a FANTASTIC company, and Half-Life appears to be THE game to get.
Also, I've got another model done! check out the Pentaceratops over in the creatures section.
--Bonewolf
Wednesday, October 14th
I've added two new creature model shots in the Models section, under the Creatures. Thank Bonewolf for all those awesome models!
--Zak
Tuesday, October 13th
BoneWolf has added about 4 or 5 new screenshots!! Most are of his latest level which takes place in a mayan type setting. Also, we may be providing some unexpected news soon, so stay tuned...
--BrushBoy
Tuesday, September 15th
Thanks, Mr. Black! Thing's are gonna be busy around here, but don't think that I'm not working on the game anymore... in fact, click -here- to see a short demo movie I cranked out last weekend! I know it's been long in coming, but finally, you can see the game IN ACTION!!! Look forward to another video soon with monsters and vehicle action shots!
--Daddi Onnatop
Monday, September 14th
CONGRATULATIONS! Aaron (Onnatop) Stackpole became the proud father of twin girls today! Let's give him a good round of applause for all the work he's had to go though and all the work he'll have to come :) ;) :D Tyajah Marie Stackpole was born at 10:00pm Pacific time and Brijenna Renee Stackpole was born an hour and 6 minutes later. Congrats again Aaron (Daddi Onnatop)!!!! :)
--MrBlack
Sunday, September 13th
Hello there, this is BrushBoy here. I will be updating the page from now on, for the most part. You'll still see BoneWolf and MrBlack at times, however my job is to provide you with weekly updates, perhaps more, and NOT monthly updates as before. Currently, we are working on a demo for the public to view which will give a good idea what we have in store for you all. :)
--BrushBoy
Friday, September 11th

Yes! We are still alive! After a few weeks of getting re-adjusted to our school schedules, we're back at work! And the latest to get completed is Bonewolf's new map, Skull4. Here's a few extra screen shots.
--MrBlack
This is two screen shots spliced together
---
Tuesday, August 11th

Well, we're going to try a new AI programmer. Rich Whitehouse has programmed a bot in the past, and will now bring life to the piles of monster models in gunman (finally!)

Zak is on vacation for a while, so I hear.

BrushBoy is working on a KILLER new map. Its a desert canyon level with a petrified forest, and gobs of fossils. Strange blue buildings here and there. It is specifically for tanks and horses--a vehicle oriented level.
--Bone Wolf
---
Tuesday, July 28th

We've just made the official move over to Telefragged and are celebrating with a whole new look!
--Zak