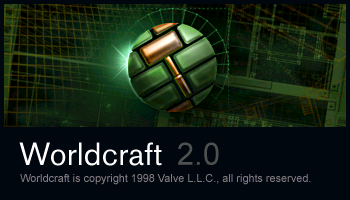 Worldcraft is a trademark of Valve, LLC. Copyright 1996-98, All rights reserved.
Introduction to Worldcraft 2.0
Welcome to Worldcraft 2.0, a graphical level editor originally designed for id Software's Quake. With this release of Worldcraft, you can make your own maps for Quake, Quake II, Hexen II, and Half-Life.
Worldcraft's web site
The most up-to-date releases and information can be found at the Worldcraft web site:
http://www.worldcraft.com/
Go direct!
Note: Microsoft's DirectX must be installed to run Worldcraft. DirectX drivers can be found at either the Worldcraft web site or any Microsoft source.
This help file was updated to meet the Worldcraft 2.0 specs by autolycus, March 1998. Please send comments or questions regarding this help file to [email protected]