Friday, July 22 2005
Play-testing
Day of Defeat: Source
has taken over the Valve offices. We're expecting DoD fans and new players alike to have a blast with the game when it's released later this summer. Polishing work is being done right now on the player animations, as well as lighting work on the various maps. Current favorite features include the new grenade stun effect, and the ability to deploy the machine gun on any surface.
Those who are familiar with the game will recognize the area in the two screenshots below from the map "Donner".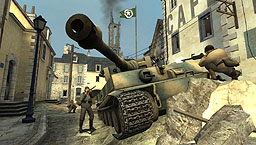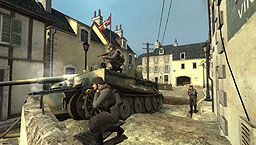 ---

In other news, HL2: Lost Coast (the upcoming free Half-Life 2 map for Half-Life 2 owners which showcases HDR rendering technology) is nearing completion and will be released soon on Steam. We're going to include a bit of extra content with Lost Coast, which we haven't mentioned yet... watch this space for details.